This articles shows how to Reset a Yeahlink Phone back to factory default settings.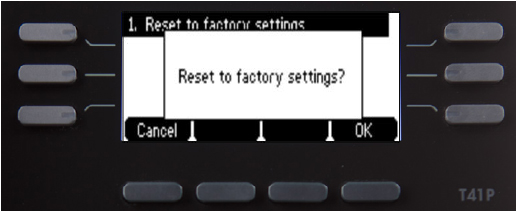 Applicable to Yealink T1, T2, T3, T4, T5, CP and VP Series
Follow the steps below to factory reset your Yealink T1, T2, T3, T4, T5, CP and VP series device in order to bring back the factory default settings. This must be done before provisioning your Yealink phone in case the device has residual settings of a previous configuration.
Factory Reset your Yealink phone
Power on the phone.
Wait until the "Idle" screen is visible.
Hold down the "OK" or "REDIAL" (if Android phone) or "Mute Indicator" button until the message "Reset to factory settings?" appears.
Press "OK" or "Yes" depending on the model.
Your phone has been successfully reset.